"The Unforgettable Beauty of Perth and Its Landmarks: A Must-Visit Destination in Scotland"
Perth, a historic city in central Scotland, is known for its charming landmarks and rich history. Here's a list of some iconic landmarks in Perth:
Scone Palace: This historic palace is located just outside Perth and is the crowning place of Scottish kings, where the Stone of Destiny once rested. The palace is set amid beautiful gardens and parkland.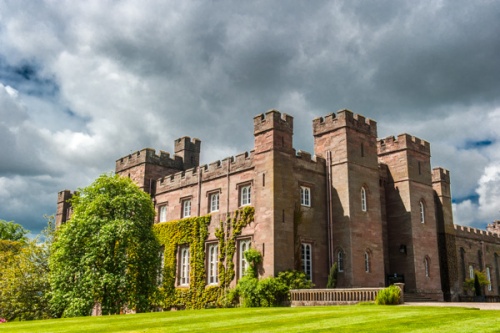 Perth Concert Hall: A modern architectural gem and cultural hub in the city center, hosting a wide range of performances, including concerts, theater, and comedy shows.
St. John's Kirk: A historic church in the city center, known for its distinctive twin towers and its role in Scottish history.
Perth Museum and Art Gallery: This museum showcases art, artifacts, and exhibits related to the history of Perth and its surrounding area.
Perth Bridge: Also known as Smeaton's Bridge, it's a beautiful stone bridge that spans the River Tay and offers scenic views.
The Black Watch Castle and Museum: Located in Balhousie Castle, this museum is dedicated to the Black Watch, one of Scotland's most famous regiments.
North Inch Park: A large public park along the banks of the River Tay, offering green space, sports facilities, and a peaceful riverside walk.
Perth Racecourse: Known for its horse racing events and stunning views of the city and surrounding countryside.
Branklyn Garden: A beautiful and tranquil garden with a diverse collection of plants, including rare species.
Perth Theatre: A historic theater that hosts a variety of performances, from drama and dance to music and comedy.
Perth City Hall: An elegant and historic building that serves as a venue for concerts, exhibitions, and events.
St. Matthew's Church: A Victorian-era church with intricate stained glass windows and impressive architecture.
Perth and Kinross Council Headquarters: Known for its modern and eco-friendly design, this building is the administrative center of Perth and Kinross.
Perth High Street: The main street in the city center, lined with shops, cafes, and historic buildings.
The Fair Maid's House: A historic building associated with the legend of the Fair Maid of Perth, it now serves as a museum and visitor center.
These landmarks showcase Perth's historical significance, cultural vibrancy, and its beautiful natural surroundings along the River Tay.
The Remarkable Beauty of the Stirling