"The Most Beautiful Landmarks of St. Andrews: Discover the Charms of this Historic Scottish Town"
St. Andrews, located on the east coast of Scotland, is famous for its historic university and its stunning coastal scenery. Here's a list of some iconic landmarks in St. Andrews:
St. Andrews Cathedral: The ruins of this medieval cathedral are an iconic sight in the town. It was once the largest church in Scotland and a major religious center.
St. Andrews Castle: Located near the cathedral, this castle is a historic fortress with a turbulent history. Visitors can explore its underground mine and siege tunnels.
The University of St. Andrews: Founded in 1413, it is one of the oldest universities in the English-speaking world. The university's historic buildings, such as St. Salvator's Chapel and St. Mary's College, are landmarks in themselves.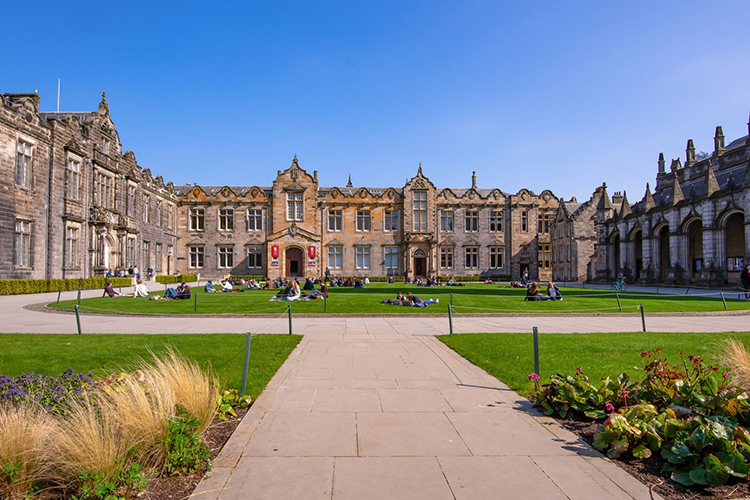 The Old Course: Known as the "Home of Golf," the Old Course at St. Andrews Links is one of the most famous and historic golf courses in the world. Golfers from around the globe come to play here.
West Sands Beach: This beautiful stretch of sandy beach is famous for its appearance in the film "Chariots of Fire" and is a great place for a stroll or swim.
Swilcan Bridge: A famous bridge on the Old Course, it's an iconic spot for photos and a symbol of golfing history.
St. Andrews Botanic Garden: A peaceful garden featuring a wide variety of plants and a glasshouse with exotic species.
St. Andrews Aquarium: Located near the harbor, the aquarium offers a chance to see marine life, including seals and sharks, up close.
St. Andrews Preservation Trust Museum: This museum explores the history of St. Andrews through a collection of artifacts and exhibits.
St. Andrews Harbour: A picturesque harbor with fishing boats and a scenic pier where you can enjoy views of the North Sea.
St. Andrews Town Hall: A historic building in the heart of the town that serves as a venue for various events and functions.
St. Andrews Martyrs' Memorial: A monument dedicated to the Protestant Reformation martyrs who were executed in St. Andrews during the 16th century.
St. Andrews Aquarium: A family-friendly attraction showcasing marine life, including seals and a wide range of fish species.
St. Andrews Museum: Located in Kinburn Park, this museum delves into the history of the town and its people.
The British Golf Museum: A museum dedicated to the history of golf in Britain, featuring exhibits on the sport's origins and evolution.
These landmarks and attractions make St. Andrews a fascinating destination for history enthusiasts, golfers, and those looking to enjoy the scenic beauty of the Scottish coast.
The Unforgettable Beauty of the Perth and its Landmarks