"Cooking for Beginners: Building Confidence in the Kitchen with Essential Tips and Techniques"
Cooking is a valuable life skill that can be both enjoyable and rewarding. If you're a beginner,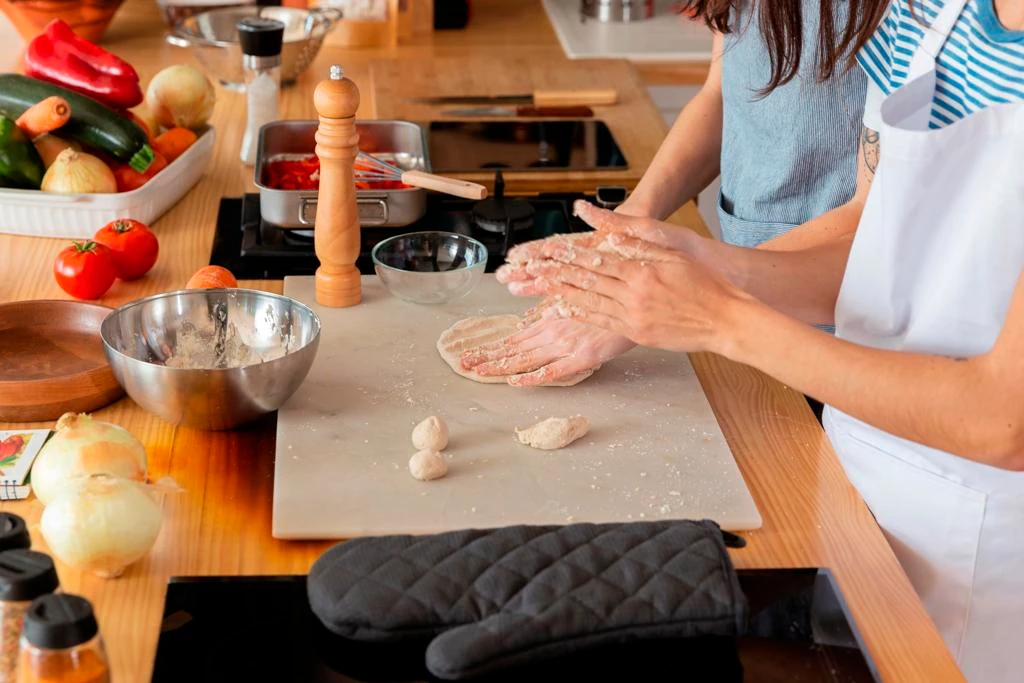 here are some essential tips and guidelines to get you started on your culinary journey:
Start Simple: Begin with basic recipes that have few ingredients and simple cooking techniques. As you gain confidence, you can gradually move on to more complex dishes.
Gather Equipment: Stock your kitchen with essential tools like pots, pans, cutting boards, knives, mixing bowls, measuring cups and spoons, and utensils.
Follow Recipes: Start by following recipes closely. They provide step-by-step instructions that help you understand the cooking process.
Read the Recipe: Before you start cooking, read the entire recipe to understand the steps and ingredients needed. This will help you avoid surprises halfway through.
Prep Ingredients: Wash, peel, chop, and measure all your ingredients before you start cooking. This is known as "mise en place" and helps you stay organized.
Knife Skills: Learn basic knife techniques like chopping, mincing, and slicing. Proper knife skills can make cooking safer and more efficient.
Cooking Techniques: Familiarize yourself with common cooking methods such as sautéing, boiling, simmering, baking, and roasting.
Seasoning: Salt and pepper are the foundation of flavor. Don't be afraid to season your dishes, but start with a little and adjust to taste.
Taste as You Go: Regularly taste your food as you cook. This allows you to adjust flavors and seasoning before the final dish is ready.
Experiment with Spices: Gradually introduce new herbs and spices to your dishes. They can significantly enhance the taste of your food.
Learn Basic Terms: Understand common cooking terms like "sauté," "sear," "braise," "broil," etc. This will help you follow recipes accurately.
Kitchen Safety: Always prioritize safety. Keep sharp objects away from the edge of the counter, use oven mitts when handling hot items, and be cautious around open flames.
Start with Breakfast: Begin your cooking journey with simple breakfast recipes like scrambled eggs, pancakes, or oatmeal.
Master a Few Dishes: Choose a few dishes you enjoy and practice making them until you're comfortable. This builds your confidence in the kitchen.
Don't Fear Mistakes: Mistakes are a natural part of learning. Don't be discouraged by them; instead, use them as learning opportunities.
Keep it Balanced: Aim for a balanced diet that includes a variety of fruits, vegetables, proteins, and grains.
Cooking Resources: Utilize cookbooks, online recipes, cooking shows, and video tutorials to learn new techniques and recipes.
Patience is Key: Cooking takes time to master. Be patient with yourself and celebrate your progress along the way
Building Confidence in the Kitchen
Building confidence in the kitchen is a gradual process that comes with practice and experience. Here are some specific steps you can take to boost your confidence as you continue your culinary journey:
Start with Basics: Begin with simple recipes that have minimal ingredients and straightforward instructions. As you become more comfortable, you can gradually move on to more complex dishes.
Repeat Familiar Dishes: Practice making dishes you've successfully prepared before. Repeating these recipes helps you refine your skills and build a sense of accomplishment.
Set Realistic Goals: Set achievable goals for yourself. Whether it's mastering a particular cooking technique or trying a new ingredient, accomplishing these goals will boost your confidence.
Positive Mindset: Believe in your abilities. Even if you're a beginner, approach cooking with a positive attitude and a willingness to learn.
Learn from Mistakes: Mistakes are valuable learning experiences. Instead of getting discouraged, analyze what went wrong and think about how you can improve next time.
Embrace Trial and Error: Don't be afraid to experiment with flavors, techniques, and recipes. Not every experiment will be a success, but each attempt teaches you something new.
Practice Mise en Place: Organize your ingredients and tools before you start cooking. This organization reduces stress during cooking and helps you focus on the task at hand.
Cook Regularly: The more you cook, the more confident you'll become. Try to cook at least a few times a week to build your skills and familiarity with various ingredients.
Celebrate Small Wins: Even if a dish isn't perfect, acknowledge the things you did well. Maybe you nailed the seasoning or achieved a nice sear on the meat. Celebrate these victories.
Seek Guidance: Don't hesitate to ask experienced cooks for advice or watch cooking tutorials. Learning from others can provide valuable insights.
Host Small Gatherings: Invite friends or family over for a meal. This gives you an opportunity to showcase your cooking and receive feedback in a supportive environment.
Keep Learning: Enroll in cooking classes or workshops to expand your knowledge and learn new techniques. The more you learn, the more confident you'll feel.
Document Your Progress: Keep a cooking journal or take photos of your dishes. Looking back at how far you've come can be incredibly motivating.
Experiment with Ingredients: Try working with ingredients you're less familiar with. Exploring new foods can be both exciting and educational.
Build Your Repertoire: Create a list of go-to recipes that you feel confident making. Having a set of reliable dishes you can prepare will boost your self-assurance.
Share Your Successes: Share photos of your dishes on social media or with friends and family. The positive feedback can be a great confidence booster.
Stay Organized: Keep your kitchen clean and well-organized. A clutter-free workspace can help you focus and feel more in control.
Remember Your Progress: Reflect on how far you've come since you started. Acknowledge the skills you've developed and use this as motivation to continue improving.
Building confidence in the kitchen is a journey, and every step you take brings you closer to becoming a more skilled and self-assured cook. Enjoy the process and savor the delicious results!
The Future Of Education: Innovations & Trends to Watch