Rs. 200 Prize Bond Draw #95 Result in Hyderabad – 15th September 2023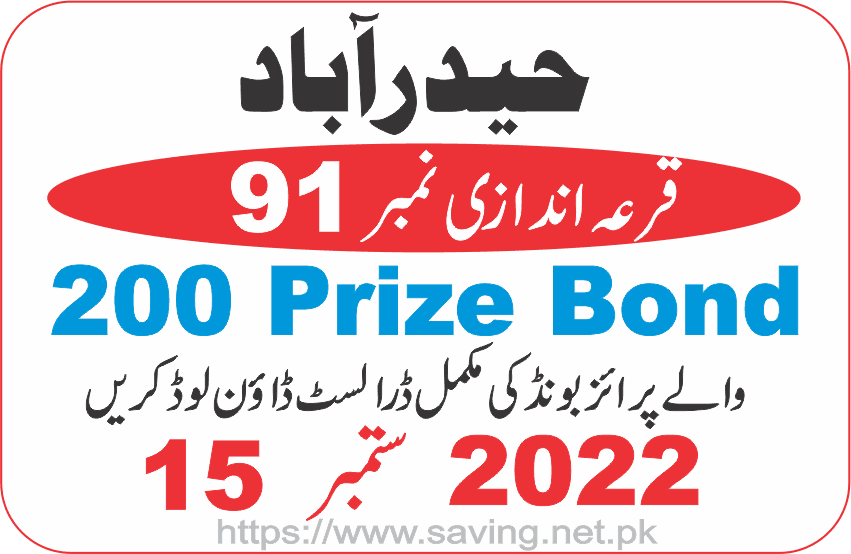 1st Prize Number , Prize Amount: Rs. 750,000/- PKR. (1 Prize)
2nd Prize Numbers , Prize Amount: Rs. 250,000/- PKR. (5 Prizes)
| | | | | |
| --- | --- | --- | --- | --- |
| 000002 | 000022 | 000222 | 002222 | 022222 |
3rd Prize Numbers, Prize Amount: Rs. 1,250/- PKR. Each (2394 Prizes)
Upcoming Rs. 200 Prize Bond Draw #95 in Hyderabad on 15th September 2023
Don't miss the opportunity to participate in Draw #95 of the Rs. 200 Prize Bond, scheduled for September 15th, 2023, in Hyderabad.
This highly anticipated draw offers an array of enticing prizes:
1st Prize: Rs. 750,000/-
2nd Prizes: 5 prizes of Rs. 250,000/- each
3rd Prizes: A staggering 2,394 prizes of Rs. 1,250/- each
Stay informed by accessing the comprehensive list of results from the Rs. 200 Prize Bond Draw #95, taking place on September 15th, 2023, in Hyderabad. Utilize our convenient Power Search tool to swiftly determine if you are among the fortunate winners by searching your prize bond numbers within the list.
For added convenience, safeguard your Prize Bond numbers within our Prize Bond Wallet. You will receive complimentary results notifications on WhatsApp following each draw.
Monitor the 200 Prize Bond Draws schedule for the entirety of 2023, with draws occurring every quarter. Regularly review the 200 Prize Bond list for 2023 to ascertain if you've secured any prize winnings.
Set a reminder for the forthcoming Rs. 200 Prize Bond draw in Hyderabad on September 15th, 2023. Additionally, you have the option to peruse the outcomes of all prior Rs. 200 Prize Bond draws for your reference. Best of luck!